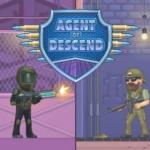 Agent Of Descend
Agent Of Descend is a turn-based action game which allows the players from Friv play to interact and come up with a creative strategy for the game. The main character is Agent Doe, whose mission is to eliminate all the hostiles in the building one by one. In order to do so, he will have to go from top to bottom, from floor to floor to look for the hostiles and fight them.
Keep in mind that the friv game has a step-to-step tutorial, therefore, you need to be patient and follow the guide carefully. Only by learning the rules and the features will you be able to smoothly make your way through the obstacles and win this tough game. You will encounter a lot of enemies who tend to show up unexpectedly on your path. Remember that you can switch back and forth between your weapons to use the most suitable weapon to quickly kill your enemies. When you successfully eliminate an enemy, you are rewarded with extra scores. Then, use the down button to get to the next level. There is a "Prepare" tab which you can use between your fight to increase the statistics and buy more ammo.
The most prominent feature of this game is the large collection of tools and weapons. Moreover, players will enjoy a fun game with the smooth transition and bright graphics. Don't hesitate to check out Agent Of Descend free game at http://www.friv.land/. There are some other games from the collection such as Steel Fists and Extreme Car Stunts 3D
Instructions:

Interact and attack using your left mouse.
www.friv.land
Rating:
3.5
out of
5
based on
2
user ratings