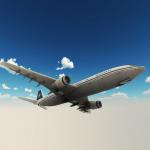 Airbus Flight Simulator
Flying across the sky is such a great experience, but will you be able to fly a huge Airbus? Airbus Flight Simulator free game offers the chance to learn how to control one of the biggest airplanes with a detailed instruction. Moreover, while taking off, players get to enjoy a nice view with beautiful graphics at http://www.friv.land
The game has amazing 3D graphics and realistic backgrounds to optimize the players' experience with the challenges. After you go through the tutorial, you need to start your task as the main pilot immediately. You need to fly the plane through the mountainous areas with many lakes and mountains below. The hardest part is to avoid hitting any high mountains while collecting the yellow circles scattered all over the place. If you want to have high scores, try to collect as many circles as you can. Try to top the board at the end of the game as well! Don't fly too low or too high, because you might crash your airplane and cause a dangerous effect.
Another tip for the new players is to keep track of all barometers on the screen to keep the balance. You will need to utilize your flexibility and a strong mentality to control such a huge airplane. Have the best flight of your life in this virtual game from Friv land and don't forget to share with your friends! Some candid and dynamic airplane games are available for free like Angry Pigs and UFO Raider
How to play: Use arrows or W, A, S, D to change the direction and Ctrl to power down.
www.friv.land
Rating:
4.0909090909091
out of
5
based on
22
user ratings