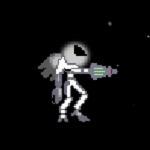 Airpack
Will you be able to defend the moonbase as the last survivor? Use your little aircraft and trusty machine gun to shoot down all the approaching bullets and objects out of space in Airpack online shooting game! The game has a simple design, however, with the fun gameplay, you can become addicted to it.
As the last survivor, you are equipped with a space suit to protect the planet. Carrying out the tasks on your own is not easy, but you can master the game after a few rounds with Friv land's tutorial. While shooting the enemies, you also have to pay attention to avoid the laser aimed at you. For an enemy destroyed, you will gain 10 points. However, if you are attacked by a laser, your score will decrease by 2 points. It's all about surviving the battle of the space creatures at http://www.friv.land. In this shooting game, the enemies will only move quicker and quicker, therefore, in order to win, you will need to utilize your amazing focus and concentration on each turn.
It's best to avoid touching any laser in general because they will cause you some serious troubles. You can also check your score on the scoreboard and choose to submit the score after each round. Exploring will be incredibly fun and you can share more games with the same themes with your friends such as Best Cops and Airwar
Controls: move with up, down, left, right arrow keys, shoot at the enemy using the space bar.
www.friv.land
Rating:
3
out of
5
based on
2
user ratings