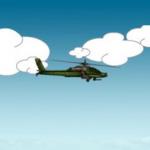 Airwar
It takes some serious skills and the concentration to master Airwar, a new plane game from Friv online. Should you be confident in your ability to control a huge aircraft, this game will be the perfect choice for you! Like most of the airplane games and shooting games at http://www.friv.land/, the ultimate goal is to survive the battle of the airplane by shooting down the opponents.
However, when it comes to Airwar, you will experience many types of weapons and vehicles such as helicopters, aircraft, and even the tanks. Since the enemies will be harder to defeat, you should take advantage of all the weapons that you can lay your hands on. On the top of the game, there are many bars and barometers to calculate the number of Ammos, Rockets, Missiles, and Bombs that you have used so far. You can keep track of the pilots that you shot down as well. Don't hesitate to fly around and move as you wish. Not only should you shoot down all the enemies, but you should also avoid any strong opponents that you can't defeat.
The graphics are also amazing in this game, so we guarantee that you will have a great time! Remember that the ultimate goal is to stay alive to gain the highest scores possible. More and more shooting games with cool themes like Cemetery Games and Dungeon Time are available for free! Come and have fun with your friends!
Instructions: move the aircraft using the arrow keys and shoot at the opponents using the space bar.
www.friv.land
Rating:
3
out of
5
based on
2
user ratings