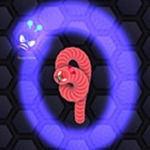 Angry Worms
Angry Worms is the survival fight of a tiny worm in Friv.land. Attempt to survive and collect energy balls to boost your strength. Eliminate enemies to clear objectives. Will you win all levels? Angry Worms game of friv free online games tickles you pink. Run away from danger and experience horrible moments.
Angry Worms free game is a story about slithery creatures in their own world. You take a role of a worm and get missions. To start your life, you have to think about a name and type it in the box. Choose a skin color, shape, and room size. You may select green, blue, yellow, gray, red or purple color. You use some worms for free. However, if you want to own worms with thorns, you have to clear first 4 or 8 objects to unlock them at friv free online games 2018. You can play in the small, medium or large room.
Let's play now. You must gain objectives and finish levels. Your first objectives are to survive for 2 minutes, gain a weight of 100 grams, destroy 10 worms in a single match and achieve 10th level. You go around and eat colorful dots to grow up. Dots lie on the floor. The more dots you eat, the bigger and longer you are. You complete a level by getting enough points. In the level 1, you must get 250 points while you will collect 350n points at level 2. If you bump into other worms, you will die. If one worm crashes into your body, it will lose its life on friv free online games for school. Be careful!
A leaderboard shows the best players' result. Try hard to appear on it. A mini-map shows your position and opponents' place. Your result is saved in case you die. You replay to continue finishing objectives. Direct the worm cleverly. Avoid touching opponents' body.
Do your best to win challenges! We want to know how you feel about this game. Tell playmates about this game and assess it with 5 stars. Seek more games: Slither Birds, Sworm.io, and Slither Vs Block 2018 at https://www.friv.land/.
How to play:
www.friv.land
Rating:
4.3076923076923
out of
5
based on
13
user ratings