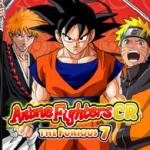 Anime Fighters Cr: Sasuke
Sasuke, Naruto, One Piece and other famous Japanese anima characters are waiting for you at one of the best fighting games called Anime Fighters Cr: Sasuke. Are you ready to deal with them and become the best fighter around the world? Choose your favorite fighter and fight against your rivals in 1v1 or 2v2 mode. At free friv, the epic battles are about to start. If you love anime character and fighting game, you will get into this game.
You can change each fighter in each battle. Each of them has unique skills and fighting style. You should choose each of them for each battle to find out who suits your play style the best. The key to winning here is you must take advantage of every second to attack. Defending is also important because you have limited health. If you are good at attacking and avoid the attack from your rival, you will have more chance to win the battle.
On http://www.friv.land/, besides normal attacks and moves, you also can launch super combos to finish your opponent. Attack continuously to create an attack chain and beat your rival faster. Don't give up if you lose. You can learn from each battle. You will know more about the weaknesses and strengths of each fighter as well as know how to attack and defend.
Then in the next battle, you can deal with all situations. Good luck! You always know that you can try tons of games on our site. Some of them are King Bird Tower Defense and Water Lab.
Controls: Player 1: WASD to move, U to use skill, I to roll, J to attack, K to jump. Player 2: Arrow keys to move, number 4 to use skill, number 5 to roll, number 1 to attack, number 2 to jump.
www.friv.land
Rating:
3
out of
5
based on
6
user ratings