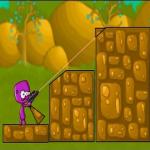 Another Planet 2 Levels Pack
Diamond is always one of the most attractive and valuable items that everyone wants to have. There is a small hero, who defies every danger to search for diamonds. Let's meet our little adventure in Another Planet 2 Level Pack. It's a great combination of adventure game and a puzzle game.
It means you not only embark on a challenging adventure but also solve many puzzles along the way to get diamonds and keep your life safe at Games friv online. Thing is not simple and easy as it seems to be. To get the valuable items, you may have to bet your own life. This fun and the challenging game require you to complete tons of levels. In each level, you help to help our brave hero pass through all dangers and reach the diamond safely.
Once he gets the diamond, the mission in that level is completed and you can move to the next one. As mentioned above, you must solve the puzzle to achieve the goal in each level on http://www.friv.land/. Play as this hero, you have a special weapon that can cut through the platforms. It likes a laser gun.
You have to take advantage of it to cut the platform in front of you to create a safe place where you can jump over and approach closer to the diamond. Just adjust the angle and start cutting. Make sure you observe carefully to have a good cut or it will send you to the final rest instead of helping you get the gems.
As expected, the difficulty level increases as you level up. Be ready to deal with the challenges waiting for you ahead. Good luck and have a bumper trip. If you want to join other journeys, why don't you play Old Timer Car Jigsaw and Sharp Knife Cut Underwear Online.
How to play: WAS or arrow keys to move, aim and shoot with your mouse.
www.friv.land
Rating:
5
out of
5
based on
2
user ratings