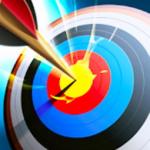 Archery Training
Archery Training game online is an interesting bow and arrow game in which you won't compete against other opponents or complete a certain mission. It's all about archery training course that you have to pass through if you want to win local archery competitions or the greater ones. There are in a total of 12 levels waiting for you to conquer. To become an archery elite, you have to practice.
Practice makes perfect, you all know that, right? So, don't hesitate anymore. Let's enter the training field and start this challenging training course at http://www.friv.land/. In the beginning, you will find it hard to shoot at the target because you haven't get familiar with its gameplay. Maybe after you fail sometimes, you will gradually get it on.
After trying shooting for several times, you will soonly find out that when you aim and shoot a little above your actual hitting point, you will easily hit the bullseye and earn more stars. The closer you shoot to the bullseye, more stars you will get. As you level up, you will face more challenges as the target is far from you. If you shoot the tiny target stand far away nicely, it means your skills have improved.
Congratulation if you get all 3 stars in all levels. Launch the game and enjoy the most realistic archery experience ever. You can play the friv game with your friends and compete to find out who is the better archer. Hope you have a great time! Do you want to play more fun sports games? Why don't you try Airpack and Best Cops? Have fun!
How to play: You use left mouse to aim and shoot.
www.friv.land
Rating:
3.75
out of
5
based on
12
user ratings