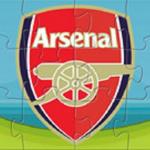 Arsenal Emblem Puzzle
Arsenal Emblem Puzzle is an engrossing game in Friv.land. You give your brain an exam. Ask yourself whether you can win a puzzle under the time pressure. Maybe you are confused by chaotic piles of pieces. Enjoy joyous moments finding the answer to the jigsaw puzzle at Emblem Puzzle game of friv 4 school 2017.
Arsenal Emblem Puzzle free game is a puzzle game. If you love football and you want to test your intelligence, this game is perfect for you. As you see from the name of the game, pictures are about Arsenal football club. There are four modes which are easy mode, medium mode, hard mode and expert mode. The difficulty level increases through modes at friv 4 school 2017 games.
In the easy mode, you have to arrange 12 pieces. In the medium mode, you make a completed picture from 48 pieces. You will arrange 108 pieces in the hard mode. Lastly, you use 192 pieces to arrange one picture. Four modes all use one picture which is Arsenal team's logo. You must finish the picture in the limited time on friv 4 school 2017 player games.
In the easy mode, you complete the logo in 40 seconds. In the medium mode, it takes 6 minutes to complete the puzzle. You have 10 minutes to play the hard mode and 15 minutes to play the expert mode. You see the original picture first. Memorize and click Shuffle button to break the puzzle. Then you arrange pieces. Don't waste the time!
Comment and rate this game highly. Share it with companions and visit http://www.friv.land/. Seek The Smurfs Jigsaw and Gumball Puzzle.
Controls:
www.friv.land
Rating:
3.7142857142857
out of
5
based on
7
user ratings