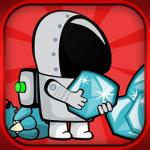 Astrodigger
Not any mechanic can be the Astrodigger in Friv's latest mining game! Do you have the necessary techniques to collect all the gold and minerals in this game? As the Astrodigger, you will be responsible for digging down and looking for the most valuable diamonds and minerals underground.
These gems are buried down many layers of dirt and covered by many rocks and weird objects. It's easy to spot them, however, you need to find the shortest path to the location of the gems and avoid all the worthless items. There are many levels in this fun game at http://www.friv.land/. In order to have the highest score, the players need to move as fast as possible since the time will decide the score. After you have gathered the minerals, it's time to go to the store and buy the updates.
Better gear and equipment will make your protective suit last longer to dig deeper. The unknown planet is filled with many valuable gems and diamonds but you need certain skills to win the game. Will you be able to collect them all? Get involved with other games with different themes and concepts such as Stickman Boost 2 & King Of Chaos. Be ready to start the intense journey underground now! A tip for the new players is that you should keep moving constantly to figure out the new path. Don't be afraid to explore the large map!
How to play: Use the arrows and W, A, S, D to move the character underground.
www.friv.land
Rating:
5
out of
5
based on
1
user ratings