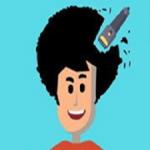 Barber Shop!
Add a game with the extremely new genre that has just been released which is Barber Shop! at friv 2020 games. Do you want to transform into a barber? It is very simple if you start the game. This is a free online game that you can fully participate in your computer or mobile phone. When entering the game you will start with level one, this is also the easiest level. Then your customers will appear, your task is to cut hair at the request of guests.
They will require different hairstyles. Barber, heart cutter ... So, to be able to complete the challenging game that requires you to have the skills and ingenuity in using a hair cutter, moving slightly little by little. Because if you move quickly and cut into the body of the customer, then you will be at fault. Your error more than 3 times, your game will fail. Be careful in your every move to ensure guest safety and cut exactly according to everyone's requirements.
I believe that as long as you are skillful you will surely make people feel satisfied. The later the more difficult the challenge. Make your hands the smartest and complete all the levels of the game put and become the most professional barber ever. Invite your friends to join now on the game Barber Shop! at http://www.friv.land/ to get the best experience with barber challenges. If you are excited about this game genre, you can join in to add some other similar game genres such as like Gold Mine Strike Christmas and Lappa Jigsaw
How to play: Using the mouse to win.
www.friv.land
Rating:
5
out of
5
based on
3
user ratings