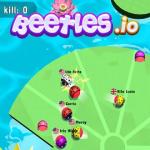 Beetles .io
Beetles.io is the newest IO game at friv Games to play in which you play as a bug whose objective is to kick other bugs off the stage without getting knock off yourself. This is a survival battle among bugs. Many players gather on a small island. To dominate this island and the leaderboard, you must find the best way to hit your enemies of the stage. Each time you eliminate a player, you grow bigger.
The big size gives you a lot of benefits. You are stronger than the smaller ones, then you find it easier to defeat others on http://www.friv.land/. Try to defeat other players as quick as you can to grow bigger and earn advantages. It means you can knock the others around with full force. As you grow in size, your forward force is much stronger. You may notice that each beetle has a big red button on their backside.
If you are able to hit your opponents'red button, they will be sent flying much farther then usual. It is a weakness of all beetles. You also must watch out your back to defend yourself. You can't move around the island and avoid the attack from your opponents. You can't try to stay safe and wait for your enemies to eliminate each other. You must actively join the battle because the size is the key to win.
If you have a small size, you can hit the bigger ones off the stage. Fight and plan a wise strategy to beat other bugs and become the winner in this fun multiplayer game. Many IO games are available on our site. Check out these following options if you like Slime LOL and Wormroyale .io.
How to play: Use your left mouse to move and kick other players off the stage.
www.friv.land
Rating:
4.3333333333333
out of
5
based on
3
user ratings