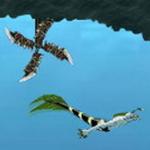 Ben10 The Water World
Ben 10 is approaching a new world with new features. The new adventure will take place underwater! He has transformed himself into the monster who can move underwater, but he still needs your help to do the navigate tasks through the adventure. It's a one-time chance to spend the time exploring with the one and only Ben 10 at http://www.friv.land
Your job is to control the monster in the water world, to follow the stream of water while avoiding hitting the barricade. The monster can only move up and down, therefore, avoiding all the obstacles is the only way to keep himself safe. The obstacles will show up randomly and unexpectedly, which will put your reflex to test. Steer clear of any rocks and blades which show up on the screen as well. The goal is to move as far as possible to gain high scores. This Friv online game has a cool and clear 3D graphics with one of the coolest main character, Ben 10.
Moreover, when you dive through the water, you will learn how to move your finger and learn the technique to win these kinds of adventure games. Each game has its own virtual world, but the fun never ends! Relax after a hard-working day or a stressful day at school with more cool games such as Kid Vs Santa and Merge Plane. Will you be able to survive the dangerous world underwater?
How to play: Hold the left mouse to swim up, release the button to swim down.
www.friv.land
Rating:
3
out of
5
based on
1
user ratings