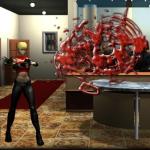 Best Cops
Maintaining the laws and orders in the city is not an easy task, especially when there are so many bad guys in Friv land. Will you play the role of a lieutenant, an officer or a cop? Join Best Cops free shooting game to challenge your shooting skills with multiple bad guys. Of course, your goal is to shoot down all the bad guys that come into the screen. You can be killed if you are shot at for too many times, so be careful with the enemies.
Your trusty weapon is the handgun with a limited number of bullets. Use the gun wisely and you will be able to dominate the combat. If you are in the middle of a level and you run out of bullets, you will need to reload as fast as possible to continue the game. If you fail to reload in time, the enemies will shoot you down in the blink of an eye. It's your job to uphold the law at http://www.friv.land with your outstanding skills! Moreover, it's the type of game for you to have fun during the playtime for free as well. During the shooting, you should pay extra attention to avoid shooting innocent bystanders.
The tasks for a cop are tough and require your endurance, but you will have fun at the same time! Come to conquer more challenges with the other games such as Airwar and Cemetery Games!
How to play: choose the direction. the enemies and shoot using your mouse cursor.
www.friv.land
Rating:
3
out of
5
based on
2
user ratings