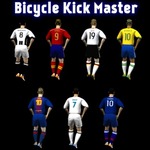 Bicycle Kick Master
Perform the coolest goals with this awesome Online Football Bicycle Kick Game at friv.land. Bicycle Kick Champ, Can you do a bicycle kick on the football field?
Test your soccer skills with an amazing stunt and get that ball into the goal post now on Friv game! Choose your idol and play with Neymar, Cristiano Ronaldo, Torres and even Messi and control him to score as many times as you can in the most spectacular way.
Pick one of the best players and bicycle kickers on the planet and score awesome goals If you score a hat trick ( 3 in a row ) you get a time bonus of 15 seconds.
It will really come in handy when trying for that top score in Friv 2018 free. Bookmark this page or our football games page and check for updates like Messi Ball kicker & Soccer Physics. With this being the World Cup 2018 we are going to have some really nice football games to go along with it.
How to play:
Wait until the ball reaches the perfect position for you to do that back-flipping kick, in order to trick the goalkeeper.
To aim, just hit the center, the right or the left side of the ball.
Complete all achievements shown on the bottom of the screen.
Enjoy Bicycle Kick Master on http://www.friv.land/
Controls: Mouse
www.friv.land
Rating:
5
out of
5
based on
1
user ratings