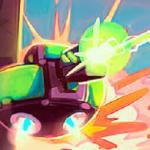 BotBattles .io
BotBattles.io is an enjoyable IO game with simple graphics and gameplay. Easy to play but hard to win, you have to plan a wise strategy and use your skills to master the battlefield. Lose a lot to win is a must-have experience. It's fine to lose. By losing, you will get familiar with the gameplay and have a wiser strategy to fight more effectively. Here at play friv Games. You enter a field with other players who are trying to shoot you down.
You must find a place to hide and attack them at the right time. Act fast and use 3 different abilities to beat your enemies. Your strategy depends on which abilities you choose. These abilities are divided into different categories including defense, offense, and mobility. Choose and combine abilities to build a powerful bot and create a combo to blow up your opponents.
In each battle on http://www.friv.land, make sure to try out different combinations see what works, which one brings the best effect. Remember that some abilities are great for defense such as force field while others are the perfect choice for the offense like projectiles. These abilities decide whether you are able to become the last bot standing or not. Your opponents also apply a different strategy.
You can't guess which abilities your opponents choose. This brings deep strategy to the game so that you can enjoy the different fighting experience. Have fun! Don't forget to add these following games to your must-play list because they are awesome: Braains2. io and Krunt .io.
How to play: Arrows/WASD to move, Mouse to aim, left click and space to attack and use abilities.
www.friv.land
Rating:
5
out of
5
based on
1
user ratings