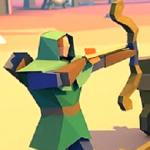 BowRoyale .io
IO games have become so popular that more and more choices are released. Welcome all of you to the latest IO game on friv com Games play - BowRoyale.io. This is an impressive multiplayer IO game that you should not miss if you love this genre. Unlike other battle royale game in which you parachute into a huge map and start picking up the useful item once your feet touch the land.
Here, you are equipped with a bow and many arrows to help you survive in the deathly battle. You won't have to hide and hunt your enemies anymore. In this cool game, you and your opponent stand in each side of the battlefield trying to shoot at each other. One hit causes instant death, so you should practice hard to improve your skill before entering the real battle.
At http://www.friv.land, you can't move or use things to cover. Adjust the power and direction to perform the accurate shot to kill your rivals before you get hit. When an enemy is killed, another one will come and you keep shooting until you are the last one standing or until you die. You are no under the pressure of time, but you should shoot as fast as you can. And shoot as many times as possible to raise your chance of victory.
You can always practice and horn your skill after a battle ends. So, are you a true archer or a lose? Show off your shooting skills by defeating all opponents and write your name on the top of the leaderboard. Have fun and good luck! Other IO games are waiting for you on our site. 2 of the best are Blocky Snakes and Aquapark.io.
Instructions: Spacebar to aim and shoot.
www.friv.land
Rating:
4.4
out of
5
based on
5
user ratings