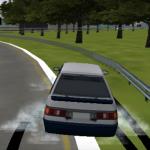 Car Drifting Xtreme
Car Drifting Xtreme is a tense car drifting simulation gives you the best racing experience ever in 5 different racing tracks. Here, try to perform as many drifts as possible to earn bonuses. As it said, there is in a total of 5 tracks with increased difficulty level at friv for school The first level is unlocked and you have to complete every lap in the level as fast as you can to unlock the next track. The reward you get depends on your performance. However, drifts affect so much on the reward. You will get bonuses by drifting. Drift as many as you can and earn incredible bonuses. Master the speed and your car when going through the curves. You won't race against any racers but it doesn't mean that it's ok if you drive at low speed. It's not a hangout by car. Keep in mind that performance in each level is important. With those coins, you can buy new cars or customize the existed ones to enhance their stats.
On friv 2019 drifting is not easy and you should have enough experience to perform the best drifts. Time flies so fast. So if you don't take advantage of every second and minute to keep processing. You will find it hard in the later levels. However, if you are proud of your racing skills and speed control ability. You will have nothing to worry about. Driving or racing game is famous. Many games have been launched with different gameplay and concept that welcome a lot of players. So, if you are not satisfied with this game, you always can look for other choices on our site. Some of the best ones are City Climb Racing and Derby Crash 2
Instructions: WASD or Arrow keys to drive.
www.friv.land
Rating:
3.5555555555556
out of
5
based on
9
user ratings