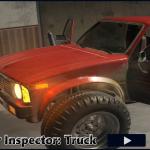 Car Inspector: Truck
Car Inspector: Truck is a cars game in Friv.land. You are going to test a truck. Check how it works. Discover the city and discover new places. What does the vehicle need to be equipped? Move on roads and fields to examine functions. Repair and produce best cars in Car Inspector: Truck game of www fiv.
Car Inspector: Truck free game is a cars game on our website. You own a car which is in a garage. You open the right gate and left gate to lead the car outside. You can paint the car with a color you like. Colors include black, white, blue, green, yellow, orange, and purple. You will supply parts for the cars including headlight, broken left/right headlight, backlight, brake left/right headlight, reverse light, broken left/right reverse light, disable turns, emergency, left/right turn, broken front left/right turn signal, broken back left/right signal, hood open, left/right door open, and back door open.
Test the truck. Let it run on the road. Turn right, turn left, go straight and go backward. You regulate information of wheels, steering assistance, configurations, and colors. About wheels, you regulate cambers, suspension distances, spring forces, and spring dampers. About steering wheel, you can change angle, open glove compartment, enable dashboard light, speed, rpm, fuel level, and engine temperature.
In configurations, you alter maximum speed, maximum brake, maximum torque, gear shifting threshold, clutch threshold, and auto transmission. Choose to have nos, turbo, rev limiter, exhaust flame, and clutch margin at first gear or not.
Make remarks on this game. Rate it highly and introduce it. Play other cars games like Extreme Car Driving, Scrap Metal 3: Infernal Trap, and City Car Driving at http://www.friv.land/.
Instruction:
Use left mouse and mouse to control camera rotation.
Use right mouse and mouse to zoom.
www.friv.land
Rating:
3.88
out of
5
based on
25
user ratings