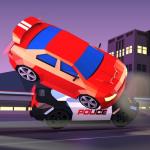 carjack.io
If you are a fan of high-speed races, Carjack .io will be a great choice. Not only is this a cool racing game but it's also in the form of an io game, which makes it ten times cooler and more interesting. Since this is a multiplayer game, you will compete against the best players from many countries.
Your ultimate goal is to claim the title of the king of racing tracks. When you enter the game, Friv online provides a detailed tutorial to make sure that you can grasp the basic rules and control keys. Since it's an io game, the race tracks will be wider and longer than the usual racing games at. Friv In order to be the top player, you need to win race after race, earn money and unlock new cars. The tracks are full of dangerous roadworks and obstacles, however, paying attention is the key. While driving as fast as possible through the highway, you also need to avoid the other car, trucks, and obstacles. Keep in mind that you can switch the lanes quickly to avoid crashes.
Moreover, try your best to overrun the police chasing behind you. You should take advantage of the nitro boost to speed up as well. With many challenges, this game will guarantee a fun playtime with your friends! Try out more io and racing games such as Yumy .io & Burnin Rubber Cartapult at http://www.friv.land/
Instructions: Use arrows or W, A, S, D to drive and change the lanes, Space to use the nitro boost.
www.friv.land
Rating:
4.4705882352941
out of
5
based on
17
user ratings