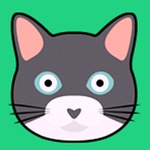 CatMouse.io
CatMouse.io seems to be a funny between cats and mice at Friv.land. Two species are enemies. They will fight against each other to seize power from opponents. You eating the plenty of food to raise the strength and expand the army. CatMouse.io game of friv 2 is an absorbing clash. Join it and win melees.
CatMouse.io free game is so exciting that you just want to play more and more. You type a nickname and choose to be a cat or mouse. Attend the army you like. Because this is a multiplayer game, there are many cats and mice on the battleground. For example, you are a cat in friv 2 games. You are in a flock and mice create their flock. Flocks come to blows on the ground. Many battles happen at the same time.
You will collect food to multiply your flock. You increase the number of fighters first. As the flock reaches a certain volume, you can boost the size of the soldiers. A few small fighters can unite and create a big one. When your flock combats opponents, they can be injured on friv 2 online games. You feed them with food to restore strength. Cats eat fish while mice eat cheese.
When the game is over, you know your score and the number of enemies you have killed. You will see a leaderboard showing top players. Earn many scores to appear on that board. You can respawn to begin a new battle if you lose the game. The battlefield is a green forest with many trees. Food is scattered everywhere. You move round to collect them.
Comment, share and rate this io game. Explore io games like Slither.io and Zombs Royale.io at https://www.friv.land/.
Controls:
Use the left mouse to attack.
Use the right mouse to merge.
www.friv.land
Rating:
4.6666666666667
out of
5
based on
6
user ratings