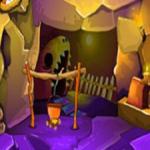 Cave Pack Escape
Escape games can bring all the fun for the players yet they will pose incredible challenges that only the smartest can overcome. Will you be able to break out of the cave in Cave Pack Escape free game from Friv kid games? In this game, the main character wakes up and find trapped in a cave.
The best way to save yourself is to interact with any objects possible to find the way out. However, be careful since if you touch the wrong objects, there will be dangerous events happening inside and block your way. Fortunately, we will give you some helpful tips and hints that may be helpful in solving all the puzzles at ... First, take a look at the whole scene to know the items scattered around.
Use your wisdom or instinct to pick out the more useful items based on clues. The right items will assist greatly in solving the quizzes or opening the locks. After you pick the right objects, they will move to your basket on the right side of the screen. Reuse them anytime you deem as properly. Also, a tip for you is that on the high levels, you might need to combine more than two objects and interact at the same time.
It's all about the observation and the deduction skills in this puzzle game! Don't hesitate to use the hints if you feel stuck or trapped at some points. More games from the puzzle collection are Mine Rusher 2 and Grow In The Hole at http://www.friv.land.
Instructions: Interact and choose the items using the left mouse button.
www.friv.land
Rating:
5
out of
5
based on
1
user ratings