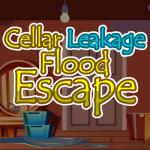 Cellar Leakage Flood Escape
When you wake up, you find yourself standing in a cellar. You don't know what is going on, why you are here and how can you go outside. Your ultimate goal is to find a way to escape from here. Cellar Leakage Flood Escape is a fun brain-teaser puzzle game test your problem-solving skills and logical thinking. Here at friv 2019, let's imagine that you have been locked inside a cellar. You have to find the spare key and escape from this abandoned cellar.
You can find useful stuff and interesting clues symbols to solve the puzzle to help you go outside safely. You don't know what does this stuff used for. You must experiment and try to use them in a different way. The only way to escape is to solve the mysterious puzzle to get the key. Each clue leads to another clue. This one links to that one and more. It relates to numbers, signs and more. You must search carefully in 2 rooms, find everything you think it helps you find the key. Look at every detail and you may find out something important on http://www.friv.land/.
Find symbols and clues on the floor, on the wall and in every object. If you find it hard to play alone, you can play with someone to process faster. Let's see how long can you find a key to get out of the room. Challenge your friends or your family members to have more fun. Experience more games with different themes such as Lego City: Prison Island and Wheres My Avocado Draw Lines.
How to play: Collect clues by using your mouse.
www.friv.land
Rating:
3
out of
5
based on
2
user ratings