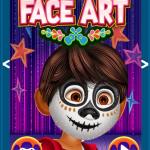 Coco Face Art
Coco Face Art is recruiting the best artist to help Miguel! If you can draw and blend colors beautifully, Coco Face Art online game from Friv land 2018 will be the chance for you to show your amazing talent! In ffriv, you need to create an outstanding face art of your own! Are you confident in your skills?
Are you familiar with the movie Coco? If you are a fan, come and play Coco Face Art online game from Friv land now! It's the new game which is inspired by this famous movie. The main character is Miguel, and this time he needs your help to fulfill his dream. Miguel finally realized his dream of music.
He is going to perform in a concert soon, therefore, he wants to have a face art. Drawing a face art is not an easy task, so can you help him? Your mission in this game for kids from Friv land 2018 is to choose your favorite pattern and follow the instructions to start your artwork. First, draw the outline of the face according to the dots.
These dots will help you to draw on the right spot more easily. Next, pick the appropriate brushes and paint colors from the collection and start painting. In order to make the best face mask, remember to mix and match the most complimenting colors together. Don't be afraid of showing your aesthetic side with unique choice of shapes and colors.
Friv land brings this game with the intention of giving the players a chance to spread their imagination and train to become a talented artist in the future. If you have finished this game, don't hesitate to try out some other games like Royal Wedding Vs Modern Wedding & Jenner Lip Doctor at http://www.friv.land/.
Controls:

choose the colors and interact using your left mouse.
www.friv.land
Rating:
3.6
out of
5
based on
5
user ratings