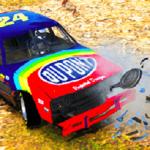 Crazy Demolition Derby
Do you love mind-blowing destruction battle against other players from all over the world? Let's visit Crazy Demolition Derby - a cool multiplayer online game related to cars, destructions, and skills. If you think it is a normal driving car, you are wrong. It's a driving car full of action scenes. The rule is simple, jus control your car on the battlefield look like a stadium and try to crash as many cars as you can.
At friv for kids Games, all cars have the same amount of HP. However, this HP will increase with each killed. So, you should try hard to kill as many enemies as possible to enhance yourself. The best tip to crash your opponents is to hit from their back. Cause damage for all those in your sight and avoid being hit by them if you can. You start the game with a 1998 BMW and during the battle or win the battle you earn coins.
You use coins to buy new cars which are cooler and more powerful. Remember that you are competing against the real players. This battle is highly competitive. It's ok if you lose in some battles on http://www.friv.land. You will improve and be better each time. Learn from each battle and revenge in the future.
Master the battlefield and become the king of destruction. The player has the most killed at the end of the battle is the winner. Is it you or other players? Play and discover now. Other games are waiting for you to explore such as Super Car Zombie and Ghost Rider.
How to play: Arrow keys/WASD to drive, Spacebar to use handbrake and F to use turbo.
www.friv.land
Rating:
3.2222222222222
out of
5
based on
9
user ratings