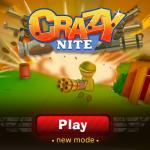 Crazynite .io
Crazynite. io is an interesting multiplayer online IO game follow the formula of famous Fortnite. If you don't want to download the game, then let's play this Friv IO games to satisfy your passion. You are brought to a battle against other online players on an island with many weapons: a knife, a revolver, a shotgun, a double barrel, a Tommy gun, a machine gun, a rocket launcher and more. Besides watching out your opponents, you also need to be careful when moving in the map because there are many explosive barrels that tear apart all who were nearby.
What you need to do after descending to the island by parachute on http://www.friv.land/ is to search for weapons and then take action to show other players know who is the best. When playing this game, if you fulfill some conditions, you will unlock new characters such as a butcher, exterminator, hunter and so on. Each has a special ability. Combine defense and attack is a great strategy to survive. A match lasts 10 minutes, so you have to take full advantage of everything you found to kill other players to win.
This IO game is a perfect combination of survival, shooting and battle royale brings you the best gaming experience like other console games. If you don't believe, you need to give it a try, then you will be hooked. There are so many online battle royale available on our site. If you look for more, let's check out Zombs Royale.io and Shotz.io.
How to play:
WASD/arrow keys to move.
Mouse to aim and shoot.
E to pick up items.
Shift to run.
Space to land faster.
www.friv.land
Rating:
3.8888888888889
out of
5
based on
9
user ratings