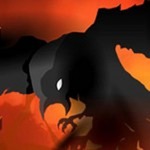 Crow In Hell
Crow In Hell is an HTML5 game at Friv.land. What would you do if you got lost in a terrifying cave like the hell? Your life is being threatened every second. You have to be hurry to escape from that underground place. Crow In Hell game makes your hair raise. You reach the limit of fright on friv for. Much time!
Crow In Hell free game is so intriguing that some players cannot ignore it. The main character is an animal. It is a crow. What happened to it? It fell into the hell by accident. It doesn't know the reason why it is stuck in the horrible cave, but it knows that it needs to get away from this place on friv for games. You help it to escape from the hell.
Face a series of difficulties and do your best to pass through levels. In the level 1, you see a dark cave. The game just has two colors which are red and black. The crow is hovering in a cave which has 2 floors. It has to fly to get the key. There are two wheels of blades. Control the crow to take the key. When it has the key, the door of friv for player games opens automatically. The crow flies backward and goes down the first floor. It must fly through the gate.
Don't touch rock or wheels. Don't hit walls! You will lose your life. After you crash into dangerous obstacles 3 times, you will die. Replay to continue helping the crow. Each level has its own challenge. The structure of cave and position of wheels change through stages. You shall experience once in the life fear.
Asses this game with stars and tell friends about it. Let us know your opinions about this game. Seek Run Sausage Run, Mildly Infuriated Bird, and Airwings Missile Attack at http://www.friv.land/.
Instructions:
Tap the screen or drag the mouse.
www.friv.land
Rating:
5
out of
5
based on
5
user ratings