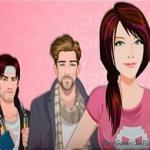 Dating Frenzy
In modern times, one of the most efficient ways to find your love is to go on dates with strangers! This is a unique and fun way to have fun and understand the other person as well. If you want to show off your charming points and learn how to flash the best features of yourself, try out Dating Frenzy, a brand new game from Friv land with the dating theme.
At the beginning of the game, players will first choose their character's name and gender. After you finish with this step, the game will suggest some great people for you to choose. Would you like to have fun with Travis who is a supermodel from Los Angeles, or with Paul who is an executive cashier at the mall? Each of the partners will come with a detailed resume which includes the characteristics, the hobbies and many more. Instead of choosing one of the guys, you can take the turn to play again and again to try going on the dates with all of them! The more you play, the more skilled you will become in holding a conversation with your date.
By answering the question, you will choose your way of communication with your date. It's like a virtual world where you can do whatever you want and say whatever you like to attract the other person. Join the game at http://www.friv.land/ and have many heart-fluttered moments with some handsome guys and beautiful girls now! More dates are waiting for you in the games like Elsa's Little Blue Dress and Moana Stunning Transformation
Controls: choose and interact with your left mouse.
www.friv.land
Rating:
4.5
out of
5
based on
2
user ratings