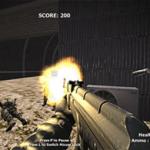 Deserted Base
The battlefield is cruel, intense and hard to survive. Only the best soldiers can make it into the elite team at Deserted Base free game in Friv online. If you want to challenge yourself by carrying out the most difficult tasks with such great soldiers, come and play this game now! In this realistic battle game, you will be located in Deserted Base in the middle of an abandoned location.
Stick to your teammate and kill all the enemies to survive and get out safely. The members from the other base are ready to dominate the map, so you should learn the controls quickly to adapt. You will see the battlefield in a first-person view and experience 3D graphics in the game at http://www.friv.land. Since the explosives and weapons are limited, you need to use them wisely to protect yourself and your teammates as well. The worst scenario is to be stuck in an ambush without any weapons or ammo, therefore, avoid being trapped at all cost.
It's not only about your personal techniques but the game also requires the perfect timing and great teamwork. Keep in mind that you should prepare an escape plan in case your team is dominated. Buying more weapons and bombs from the store is also crucial, don't forget this step! Games with such great graphics are available for free such as Big Armed Dangerous and Thumb Fighter
Controls: move with the arrow keys, aim and shoot with the mouse, shift to run, space bar to jump and 1-7 keys to switch the weapons.
www.friv.land
Rating:
3.8571428571429
out of
5
based on
7
user ratings