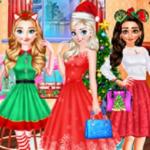 Disney Princess Christmas Party
Welcome to and join in with a very warm Christmas game that is Disney Princess Christmas Party at friv games 2020. This is a free online game that you are fully able to join on your computer or mobile phone. Start right now! Our three girls are planning to have a Christmas party in their room and invite all their friends to attend. So your first task is to design a warm Christmas ring. First, choose curtains, sofas and Christmas trees. With so many other things. Depending on your preference, choose what you like best.
The room looks warm and beautiful! Your next task is to choose beautiful dresses for the girls to be able to attend this Christmas party. First with the first girl. Choose your hairstyle, there are many different styles. Is long hair suitable for her? I firmly believe that it will be very beautiful! Next is the skirt. You choose a red for her to be able to match the atmosphere of the Christmas season.
Shoes are also an indispensable choice. Choose a pair of shoes with the same color as the dress. In the end, it was the necklace, the bag, and the decorations on the team. She looks great, doesn't she? Do the same with the other 2 girls. Invite your friends to join the game to have a great experience. If you like this game genre, you absolutely can challenge some other similar game genres such as Princess Elsa's Tailor Shop and Baby Taylor Airline High Hopes at http://www.friv.land/
How to play: Use the mouse to be able to complete the task that the game requires.
www.friv.land
Rating:
3.6
out of
5
based on
5
user ratings