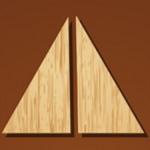 Divide
Put your intelligence to test by playing the latest puzzle game from Friv land's collection: Divide! Unlike the ordinary games, Divide online is the perfect choice for the players who would like a game with some tough challenges. If you are good at math, don't forget to try out and have some fun with more games at friv juegos jogos!
Divide online game is an interesting puzzle game with the unique gameplay and the fun challenges to give you the great playtime. Not only will this game put your intelligence to test but it will also train your brain. You can learn a lot about the math and the division by playing this game from Friv land! Your task in this game is to find out the way to divide the shape into a number of specific blocks.
The toughest part of the game is that you can only use a limited number of steps for each round. The first rounds start off quite easy. However, the difficulty levels will increase significantly after a few levels. That's why you need to practice to come up with the best way to divide the blocks.
The best player is the one who can complete the tasks using the least steps! Don't worry because there is a feature which makes this game a little bit easier. Friv land allows you to create any shapes possible, as long as the number is correct. There are lots of levels in this game so we recommend that you should take some time off to check them all out! It's a simple yet fun game to share with your friends and compete against each other to see who can gain the highest scores.
More and more puzzle games are available like Slice Food and Find A Way at http://www.friv.land/. Let's come and play now! Instructions: drag and release the mouse to cut the pieces.
How to play:
www.friv.land
Rating:
2.8333333333333
out of
5
based on
6
user ratings