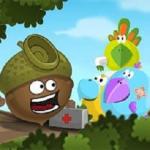 Doctor Acorn - Birdy Levels Pack
The new adventure of Doctor Acorn is about to start. Many birds get a cold. He must do his job. However, the forest is not only a beautiful living place but also full of dangers. He needs your help to overcome all obstacles and heal all patients before the cold virus spreads the whole forest. Doctor Acorn - Birdy Levels Pack is a cool adventure and puzzle game that you will get into the first level.
You should know that Doctor Acorn can't walk or run. At game friv online, you must use all objects such as fan, balloon to make him roll, fly and more to reach the checkpoint and collect all 24 pills to heal 24 birds. You must take action quickly to disable the dangers or obstacles which are placed to stop Doctor Acorn. You may want to complete the puzzle as fast as you can to earn 3 stars. Remember that you need at least 1 star to unlock the next stage.
The game allows you to play the current stage again if you fail. The pills are always hidden in the tree branches. Collect as quick as possible because if Doctor Acorn passes the pills, you lose the chance to collect them. On http://www.friv.land, after a while, you will return home to treat the waiting patients with the medicines you have collected. After that, continue the journey to find medicine to treat all the remaining patients. Have a safe journey. Don't hesitate to challenge yourself with other adventures in Accurate Slapshot Level Pack 2 and Another Planet 2 Levels Pack.
Controls: Click on objects to activate or inactive them to help Doctor Acorn.
www.friv.land
Rating:
5
out of
5
based on
1
user ratings