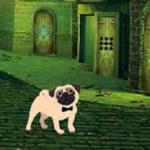 Dog Street Escape
A dog always goes out with his owner, but one day he decided to adventure outside alone without the boss at his side. He went to familiar neighborhoods where he was taken by the owner but because he was too focused on playing, he didn't know it was dark. Everyone went home, the street light came on. He suddenly realized he was alone in the street. He goes home but he gets lost.
Fortunately, you are here to help him find the way back home in Dog Street Escape. This is a fun escape game suits all ages and you can play for free anytime at friv Games play. To return home, you must collect important clues to unlock the door, the drawer, code and more, then gradually discover mysteries to help the dog come home. You don't want to leave the dog alone stand on the street at night, right?
Observe the environment to collect all things you think they're necessary. Each item links to each other. So if you find a clue, you can use it to find another one and discover something. This game requires you to stay focused and observe carefully instead of clicking or tapping randomly. It just makes you waste your time and effort on http://www.friv.land.
Use logic to solve the problem and go the right direction and find the key to open the gate. The dog came home safely. You're happy for him, right? You will have a great relaxing moment and find peace when playing this game. It's not boring as it seems to be. If you want to find more games like this one, let's check out Fish Eat Grow Big and Hoop Smash.
Controls: Use your left mouse to solve the puzzle.
www.friv.land
Rating:
4.1111111111111
out of
5
based on
9
user ratings