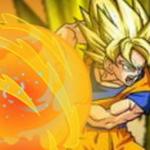 Dragon Ball Z Dark Day
The darkest day for the Dragon Ball characters is coming. During Halloween, many vicious dragons will approach in herds. They want to attack and take control of the Friv land. This time, only Goku himself might not be enough to save the city. We need a great fighter to help him by destroying all dragons and keep the citizens safe. The graphics are extremely cool and many players have praised the game for these features.
The game also allows the players to choose one difficulty mode which is the most suitable choice for them. As you begin a match, Goku will stand in the middle of the game screen. Your job is to move up and down to stand straight ahead of the dragons and shoot the fireballs at them. The longer you hold the key, the bigger the ball becomes. However, a big ball is not always the best solution. Sometimes, all it takes is a small ball to create the most sufficient attack. Challenge your own fighting skills and battle skills with this Dragon Ball themed game at http://www.friv.land/
Keep in mind that when the energy bar on the top is full, you can use the special attack mode. This will sweep all the dragons in one shot. Use this feature properly and you will win in no time! For more games to enjoy, don't miss out on other shooting games like Hidden Soldiers 2 and Extreme Pixel Gun Apocalypse 3
Controls: Use the up and down arrows to move, Z to fire a hardball. X to use the special attack only when the power bar is full.
www.friv.land
Rating:
3.8571428571429
out of
5
based on
7
user ratings