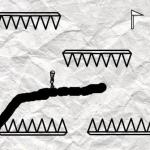 Draw-Play 3
Welcome to Draw-Play 3 - an interesting puzzle game brings you tons of drawing fun and challenges. Easy to play but hard to master, how can you beat 40 levels full of joy and challenges with the highest score? Your ultimate mission is to get to the flag to beat the level. Your adventure keeps going but you meet troubles. There is no path to move on. At frivland games for free, you must build your own path by drawing. How to drawing is easy, but create an idea path to reach the flag is difficult. You both control your character and draw a path, so let's think twice.
Start drawing a path for your hero to follow and avoid all obstacles and dangers along the way such as acid, rockets, gaps, spikes and more. You can use erase to clear what you've drawn if it's a mistake. This is undoubtedly the most challenging game that you can find on http://www.friv.land/. Let's think outside the box and free your imagination to create a reasonable path for your character as well as find the best way to help him overcome every obstacle.
Test your drawing skills and logic skills with 40 stages in different levels of difficulty. Remember that you must complete the current level to unlock the next one. It means to give your character a suitable track to pass and reach the flag. With simple designs and control mechanism, but cool and addictive gameplay, this puzzle game will give you so much fun and relaxing time. Challenge yourself with many different choices such as Happy Glass and Arcade Darts.
How to play:
Use arrow keys/ WASD to move.
Q to enable the draw mode.
E to enable the erase mode.
Use the mouse to click and hold to draw your terrain.
www.friv.land
Rating:
4.5
out of
5
based on
4
user ratings