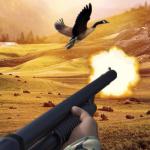 Duck Hunter
Duck Hunt is one of the most popular videogames in the world. Along with the development of technology, this kind of game is being faded out. However, you still bring back the old memory of this classic game and experience the new gameplay with a shooting game called Duck Hunter. Here at friv 2019, the core of this game is the same as the famous Duck Hunt with a twist to give you a new experience. Your main objective is to hunt as many ducks as possible within 60 seconds. Shoot any ducks that appear on the screen with your gun. The ducks appear suddenly from every direction and you try to shoot all of them.
When you are out of ammo, you can reload and keep shooting. How many ducks can you shoot down in 60 seconds? The ducks fly far from you and the ducks fly at high speed give you more points but it's not easy to hunt them. Besides, the ducks fly near you reward you fewer points but it's easy to shoot them down.
On friv games unblocked, it's better to shoot at those fly close to you than the ones from a far distance. Aim carefully to shoot accurately or shoot randomly as long as some ducks get shot. With addicting gameplay and beautiful graphics, this game brings you to the best hunting journey ever. Simple but uneasy, you can compete against your friends to add more fun to the gaming experience. Enjoy other free games on our site such as
Instructions: Aim and shoot with your mouse, point your gun down and up to reload.
www.friv.land
Rating:
3.2857142857143
out of
5
based on
7
user ratings