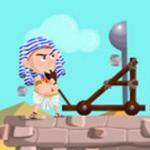 Egypt Stone War
You hang around Egypt Stone War of Friv.land to combat the brutal dark force. Enlist the army and fight against scary mummies. You will shoot or throw stones at rivals. You struggle to terminate enemies and destroy their base. You relax and have fun with Egypt Stone War game in juego friv 2. Aim well and shoot fast!
Egypt Stone War free game is a shooting game. You back to the time of Pharaohs. You go to Egypt and attend ancient wars. You are an Egyptian soldier who shoots stones at enemies. You wear Egyptian costume and fight as a real warrior at juego friv 2 game. You will stand on a fixed pedestal. You use a machine to shoot stones. Drag the catapult and release to fire.
Your enemies are mummies. They have their own catapult and shoot stones at you. They try to kill you. If you shoot at them successfully, the pedestal breaks down and they die. When a mummy dies, another one turns up. While you cannot change your position, mummies can change their position. Sometimes, they approach you on juego friv 2 online game; sometimes they go far from you.
You have three lives. If mummies shoot at you, you will lose one life. When you use up three lives, you will die and lose the game. Watch out of attack waves! You must regulate the direction and strength to make exact shots. You have one point as you eliminate one opponent in juego friv 2 for free. The amount of stone is unlimited and the time is unlimited too. You had better shoot mummies down before they collapse your base and cause your death. You can use a shield to avoid attack waves, but it just takes effect in some seconds. When two stones bump into each other, they will blow up.
Introduce this game to playmates and assess it. What do you think about this game? Send us remarks and reviews.
Discover games Stickman Archer Online 4 and Javelin Fighting at http://www.friv.land/.
Instructions:
www.friv.land
Rating:
3.5
out of
5
based on
4
user ratings