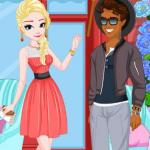 Elsa Online Dating
Nowadays, online dating becomes a trend all over the world, but Elsa doesn't know about it. She hasn't been dated for a while. Her best friends don't want to see her be always at home alone, then they encourage her to use a dating app to find a boyfriend. Like Ariel, she has a great boyfriend online. Elsa decided to give it a try. It's time for Elsa to go out on a date with one of the most handsome guys of Disney Kindom in Elsa Online Dating at friv girls game. Who do you think she suits best? Tarzan, Aladdin, Kristoff, Li Zhang, or Prince Naveen?
On http://www.friv.land/, you give a profile a heart to match Elsa with whom you like the most. After that, they will have a very first date. Let's help Elsa and the handsome guy prepare perfectly. Elsa needs to look great. Discover her wardrobe and see what she has. She can wear jeans and a pull, but a lovely dress must be a great choice for this occasion. She has many dresses in different style and color for you to choose from. Let her try all on and then make a great decision. Besides, don't forget to choose for her a pair of earring, high-heels, necklace, bracelet, and a handbag.
How does she look like now? She looks fabulous. Next, her future boyfriend is waiting for your fashion advise. Make him stand out with your choice of outfit. You also need to give him a pair of shoes, accessories as well. How about a tattoo? Do you think it makes him cooler or be a bad guy? It's up to you. Meet Disney characters again in the more amazing games such as Frozen Sisters Sporty Style and Happy Princesses Pregnant.
Controls: Use your left mouse to help Elsa find her lover.

www.friv.land
Rating:
5
out of
5
based on
1
user ratings