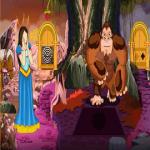 Escape the Hapless Princess
On a nice day, a beautiful princess rides her house to explore the surroundings. She finds herself in a strange place which is home to Apes. She sees an attractive kind of fruit. She tried to plunk it to eat without knowing that this apple has an evil power. Once she touches it, her face suddenly disappears.
In Escape the Hapless Princess - an interesting puzzle game at friv Games for kids, your main mission is to find clues and use different objects around the environment to help this unlucky princess restore her face. The game is quite tricky requires you to stay focused and have a great observation skill. You must search around the Ape kingdom to find clues and needed objects.
Then use them to solve the puzzles. You will find some pieces of a face, some bat wings, some potions and more. The best way to conquer this escape game is to click on everything and if you are lucky, you will find something important. Basically, the princess's face is divided into small pieces and they are hidden in many places on http://www.friv.land/.
You must collect them all and match each piece together, then use potions to restore it and give it back to the princess. Besides, the princess must get out of the Ape kingdom before the Ape king punishes her more. Find the key to open the golden gate and the princess will come back to her kingdom safely. If you want to challenge your brain and problem-solving skills, you can try out these following options: Christmas Santa Ride and Folding Block Puzzle
Controls: Click to collect clues and objects.
www.friv.land
Rating:
5
out of
5
based on
1
user ratings