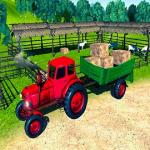 Farmer Tractor Cargo Simulation
As a farmer driver, your duty is to transport cargo to any destinations on the farm. What do you think about this job? It sounds simple and boring, doesn't it? It doesn't look like what you think. Your mission is challenging and you have to take full advantage of your driving skills to transport cargo to the required destination in each level. Here at friv games free, you must finish each mission within 60 seconds.
If you drop a box of good along the way or the time is out, the mission is failed. Try to finish the current mission to unlock the next one. There is in a total of 8 missions here. Once you finish a mission, you will earn a reward. Finish the mission in the shortest time will reward you a bonus. You should remember that you are driving in the mountainous terrain, the road is not straight and smooth as you drive in the city.
You must control the speed. Don't drive too fast or too slow. On http://www.friv.land, there are 2 requirements you must fulfill to complete a certain mission. Firstly, you have to keep the cargo safe. Don't drop any of them. Secondly, you must arrive at the destination on time. Follow the arrow key to get the place you want. That is just a sample.
The mission varies, from transport the cargo to pick up the item. Control your truck and enjoy the landscape along the way. If you love driving game, you can browse through a wide collection of games on our site. Cartoon Racing 3D and Dino Transport Truck are 2 of the best choices out there.
How to play: Use Arrow keys to drive and Spacebar to use the handbrake.
www.friv.land
Rating:
3.6666666666667
out of
5
based on
6
user ratings