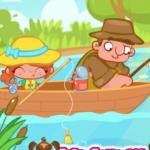 Father's Day Slacking 2015
To celebrate this Father's Day, Sarah has agreed to go fishing with her dad and enjoy the bonding time on a beautiful lake. She loves her dad very much, but fishing is very boring for her. Her dad keeps talking about fish and they haven't caught anything in hours. In order to save this trip, she wants to do some slack behind her father. Your job is to help Sarah to spice up the fishing trip and have some naughty fun without being caught.
Keeping out of the trouble to avoid upsetting her dad is the key feature of this friv game, which means you have to pay close attention to the dad. If you fail to hide the slack and tricks from Sarah's dad, he will get upset and the game will be over! There is a list of games that you can have fun with Sarah on the board to the right of the screen. You and Sarah can choose to play the boat game in which Sarah has to switch lanes to avoid the rocks. Or take the time to fish for some other valuable items. The choices are endless at http://www.friv.land/!
However, as you are playing, you also need to keep an eye on the time limit. Moreover, when Sarah's father is about to notice, click on the x button to return by his side. All in all, various activities, games, and puzzles are waiting for you! Mini-games are also very popular these days and some of the famous choices are Dating Frenzy and Xmas Catcher
Instructions: interact and choose the activities using the left mouse.
www.friv.land
Rating:
1
out of
5
based on
1
user ratings