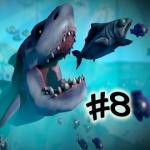 Fish Eat Grow Big
The ocean has always been a mysterious world, containing countless secrets and many different species of creatures. Small creatures are always weak in this underwater world. Unfortunately, you are one of them. You are a vulnerable little light bulb fish, are fighting for life every day. To survive, you must eat the smaller fish to grow while avoiding the bigger ones. How long you can survive and how big you can become?
Play Fish Eat Grow Big at free friv Games. In this game, you can play with two other players and compete against each other to find out the winner or you can play solo against AI fishes. The rule is simple, just swim around to hunt for the smaller fishes and stay far away those who are bigger than you if you don't want to become their food. The bigger fishes are not only your enemy but also the bomb dropped by fishermen and the frozen items which make you freeze until death on http://www.friv.land.
You have to deal with many dangers in the ocean. You neglect a second, you can lose your life immediately, so make sure you stay focused and swim carefully, eat and grow as big as the rules of the ocean out there. Initially, you should swim down to the bottom of the sea. It is home to many small fish species while much large fish will swim near the water. Good luck! Rule other games like Tower Defense 2d and Paparazzi Diva: Ariel.
How to play: Use WASD or arrow keys or left mouse button to swim.
www.friv.land
Rating:
4.875
out of
5
based on
8
user ratings