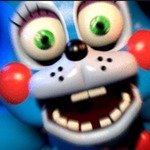 Five Nights at Freddy's 2
Five Nights at Freddy's 2 is a shocking and frightening game at Friv.land. If you are a fan of horror movies, you can't miss this game. You experience five nights at a toy store which everyone has evil rumors about. Are robots dangerous? You discover the truth while playing Five Nights at Freddy's 2 game of friv 3.

Five Nights at Freddy's 2 free game is so thrilling. You will be a security staff in a strange store. You become an employee for Freddy's Pizzeria, which is a fun family place with animal robots. You spend the night over there and observe cameras. There is nothing to worry about on friv 3 games. Don't mind rumors about toys. Some say that they are cold-blooded assassins. No one knows the truth. You will explore the truth after 5 nights.

You are given a flash and a mask. Remember to keep the music box playing. Don't let it stop. No matter what happens, you must keep it playing. You start to work at 12 am. You are in a dark room. There are 2 lights, 1 mute call phone, and 1 battery. Time will pass by. There are cameras, and you sit in a monitor room. We have a map showing your position and cameras' place in friv 3 player games. You can see the status of 3 robots. A sign will show up if any danger is coming. You have to prepare for the bad things. Sometimes, puppets attack all of a sudden and you can do nothing. At that time, you lose the game and you perhaps replay by clicking the flag on the screen.

Take a glance at http://www.friv.land and seek new games such as The Visitor , Stickman fighter and Stickman Shooter. Introduce them to your best friends and make comments on our service. Rate the games highly. Have a great time!

How to play:
Press and hold Space to use the flashlight.
www.friv.land
Rating:
4.04
out of
5
based on
25
user ratings