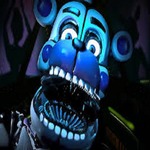 Five Nights At Fredy's Sister Location
Five Nights At Freddy's Sister Location is a shocking game in Friv.land. What will you face tonight? Which monster will terrify you? Don't scream or run away in fear. Be courage! You find the truth about the robot manufacturer. Five Nights At Freddy's Sister Location game strikes terror into players on friv 5.
You explore secrets in Five Nights At Freddy's Sister Location free game. It is one version of the horrible series Five Night. Can you guess what is waiting for you? In previous versions, you go to work at a pizza restaurant, toy store, and an amusement park. In this time, you will go to a robot factory. You are a maintenance manager working the night shift at friv 5 games. It's ok in the day, but at night something terrible can happen.
At first, you are in a room. You see pictures on the wall and many types of machine. The light is out of order. It is flickering, so you have to repair the light and electric power. You will have to crawl in a vent to enter rooms and repair lights. You move in the vent and go in a room of friv 5 online games. You see two panels of switches. Touch electric wires to fix them. Touch screen to turn on the light. The instruction voice will tell you if you repair the machine successful.
You continue to crawl in the vent to enter another room. Fix the technology equipment by touch the panel. Now you finish your shift and take a rest. Eat popcorn and watch a movie. You can observe from right side to left side. Be cautious! Nightmares are coming to https://www.friv.land/.
Type remarks on this creepy game and assess it. Introduce it to friends and test your mettle by playing Five Nights At Fredy's and Five Nights At Fredy's 2.
Instructions:
Use W to crawl, W+Shift to go faster.
Use the mouse to look around.
www.friv.land
Rating:
5
out of
5
based on
2
user ratings