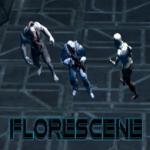 Florescene
Third-person shooting game is a new touch in the collection of shooting games in Friv land. Florescene is one of the games with this new feature and it's a perfect choice for players of all ages. The realistic graphics make you feel as if you were in a spaceship. In the spaceship floating in space, you will see a lot of monsters, aliens and strange plants. Don't be afraid as they will not harm you as long as you can use your smart thinking, intelligence and puzzle solving experience to solve all problems along the way.
By solving puzzles, we mean that you will have to shoot all the monsters and obstacles along the way. The spaceship has many hidden doors and spacious rooms. Once you enter the rooms, start searching for the monsters immediately and shoot them to get the upper hand. Your weapons are the shotgun, machine gun, rifle, bombs and many more. However, don't get too close to the monsters and keep a safe distance or else you will not be able to kill them in time. If these scary monsters manage to touch you, you will suffer from their attack waves, which results in diminishing the energy.
Keeping check of the energy bar on the top of the game screen throughout the game is a way to control the progress. Be brave and you will be able to survive the battle at http://www.friv.land. Other games like Jungle War and Deserted Base will also help you to have fun!
Controls: move with arrow keys, shoot with the mouse and turn on the flashlight with F key.
www.friv.land
Rating:
3
out of
5
based on
2
user ratings