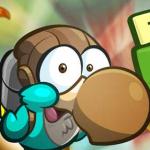 Flying Dodo
Dodo is a flightless bird but he doesn't give up. He wants to fly and he uses a jetpack to fulfill his dream of flying. However, the control mechanism of this jetpack is quite hard. In Flying Dodo, he needs your help to fly as far as possible to the world that he has never seen before. Play Flying Dodo online at www.friv.land
Dodo can't fly because he is a flightless bird. He does not accept such fate. He wants to fly around the sky and discover many interesting things that he hasn't had a chance to experience before. Finally, Dodo has found a way to fulfill his dream of flying. He will use a jetpack. Unfortunately, it's harder to control the jetpack than he thinks. So, he needs your helping hands.
Flying Dodo is an endless runner but instead of running, you fly. Here at friv 2018 for kids, you help Dodo fly as far as possible. Along the way, try your best to collect all coins and diamonds. This currency in game is used to buy new jetpacks with more abilities and purchase extra lives as well as power-ups. The jetpack needs energy so you must collect oil cans floating in the screen. Besides, Dodo will face many obstacles such as kites, other birds, vines and so on.
Avoid these dangers, otherwise, game is over. At friv 2018 games, one more thing you should keep in mind is that do not fly too high or fly too low. Flying too high, Dodo will crash into obstacles while flying too low, he easily falls down. Let's see what your highest score is.
Enjoy this game. Explore more interesting things in many games available at http://www.friv.land/, such as Angry birds
Instructions:
www.friv.land
Rating:
2
out of
5
based on
1
user ratings