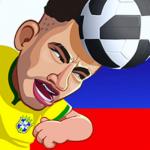 Football World Cup 2018
Football World Cup 2018 is a very exciting game of Friv.land. You play as a professional footballer. You run fast, kick and pass the ball. You can beam with pride when you lift up the trophy. This is an awesome sports game in www friv. Football World Cup 2018 game is a perfect choice for soccer addicts.
Football World Cup 2018 free game welcomes the biggest sports event of this year. World Cup 2018 is coming. What have you been preparing for it? You can choose to play some online football simulators to enjoy the dynamic atmosphere. It is about a well-known competition. You will select a football team. There are 32 national teams from all continents in the world. You take the team you admire.
They are United Kingdom, Italy, Germany, America, Uruguay, France, Brazil, Poland, Netherlands, Nigeria, Russia, Japan, Spain, Turkey, and so on. After you choose a team, you enter the competitions. Control your team to compete with opponents. Try to score goals! Get scores as many as you could to win all matches. You head off to the final match.
Lead the team to the title of champions. You may play quick exhibition matches to practice or make fun. You control players smartly. They run and pass the ball. Kick it when good chances come to score goals. When opponents are having balls, you tackle to take it. Shoot it to get it in the net. Enjoy this game!
Share, rate and make comments on this game. Try on sports games like Soccer World Cup 2018 and World Cup Penalty Shootout at https://www.friv.land/.
Controls:
Use arrows to move players.
www.friv.land
Rating:
4.421875
out of
5
based on
64
user ratings