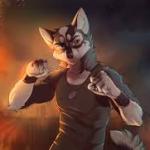 Furry Fighter
The fuzzy cats in Furry Fighter are actually the best fighters from Friv land, but you need to come and train them. A great training session will unleash the hidden power of these three cats and allows them to join the tournament. Let's see whether you can guide them and win the title of the champion or not! Before starting any match, choose your desired character.
The White Cat grew up in a healthy home and he eats whatever he wants. However, the Black Cat grew up on the street, fights a lot and inflicts more damage. The last one is the Red Cat who grew up in a village with a lot of milk and generates the health faster.
Each of the cats has its own characteristics, so you should understand the features and take a pick. Then, the cat will join a detailed tutorial at friv with the master of fighting skills. When the cat is ready, you can take him to any battle and compete against the players from all around the world to earn money. Pay attention to the energy bars on the top of the game screen to monitor the health of your cat and your opponent's. It's also crucial to choose the suitable range of health, speed, dodge, and force before each match. If you have conquered all the matches, let's try out other games like Ooni Battle 2 & Masked Forces Unlimited. at http://www.friv.land/!
Controls: Press and hold the left mouse to accumulate power, then slide the mouse to strike.
www.friv.land
Rating:
3.5
out of
5
based on
2
user ratings