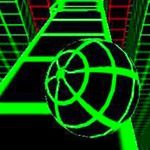 Galaxy Slope
Galaxy Slope is a high-speed reaction game at Friv.land. Your hair will raise and the nerves are being wracked. Let's discover how large the Milky Way is. You simply control a ball rolling everywhere. Zoom in going ahead without falling. Galaxy Slope game of jogos do friv won't turn you down. Just relax!
Galaxy Slope free game is waking up all cells in our body. You and a ball travel around the universe. You will see breathtaking views and magical scenes in space. They are so stunning. Stars, asteroids, comets, and satellites are worth sightseeing. The ball is black with bright green lines. It is going forwards continuously in jogos do friv games. However, it doesn't know how to turn right and turn left. You must control it. Turn right or turn left at the right time.
Start on Mercury, then pass through the Earth, Saturn, and the rest of planets. The path seems to be endless and full of danger. The road is black with green light rays. It is crooked, sinuous, and bendy. The ball run so fast and the road change suddenly. Sometimes you feel like going banana while playing. You cannot respond as fast as necessary on jogos do friv player games.
The road has many slopes and they are very steep. You go up and down. Don't fall out of the way. You will die and have to replay to start a new adventure. Don't hit objects! You lose the game. Move flexibly to go as far as you can. You get scores when moving. The farther you go, the more points you have. The longer you survive, the more scores you gain. Together we explore the solar system. Keep balance! Keep plugging!
How is the game? If you have a soft spot for it, share it with buddies. Remember to rate it highly and write comments on the game. Feel max speed and overcome challenges in Slope Game, Tunnel Rush, and Color Tunnel of http://www.friv.land/.
Controls:
Use the right and left arrows to play.
www.friv.land
Rating:
4.3333333333333
out of
5
based on
3
user ratings