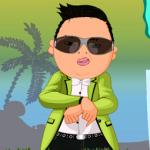 Gangnam Style Adventure
Most of the people around the world know Psy or hit song Gangnam Style which has over 1 billion viewers. Do you know this song and are you able to dance the signature moves of it? Now, it's not time to sing or dance or listen to music. It's time to embark on a new adventure. Psy is about to start a new adventure to collect stars. You know that he is a superstar, right?
In a cool platform game called Gangnam Style Adventure at play Games friv, he is waiting for you to join with him. You may feel lonely if you go to a restaurant alone or go out alone without any friends, so does Psy. Here, as a trusted comparison, your responsibility is to help Psy overcome all obstacles, collect all stars and reach the finish flag which could be placed anywhere in each level.
Don't let him fall down because the ground is full of spikes and dangerous things. Go adventure with Gangnam style. He won't walk or jump like us but he uses the moves in his song. It is the most special feature of him. On http://www.friv.land, you have only one life in each level and to unlock the next adventure, you must finish the current one by completing the required mission and reaching the finish flag. Hope you have a great time with Psy. New journeys are available on our site. Start epic journeys in Ultimate Strike Down 2 and Temple Of Death.
How to play: Use arrow keys to move.
www.friv.land
Rating:
2.3333333333333
out of
5
based on
3
user ratings